FREE Summer Meals in Burlington for All Kids 18 and Under
Kids from any town or state are welcome!
Beginning Monday, June 20, the Burlington School Food Project will provide meals at no charge to kids 18 and under. No fees, no registration – just show up. See below for details about dates, locations, meal times, and menus.
Call 2-1-1 for information on free summer meals for kids and other resources across Vermont.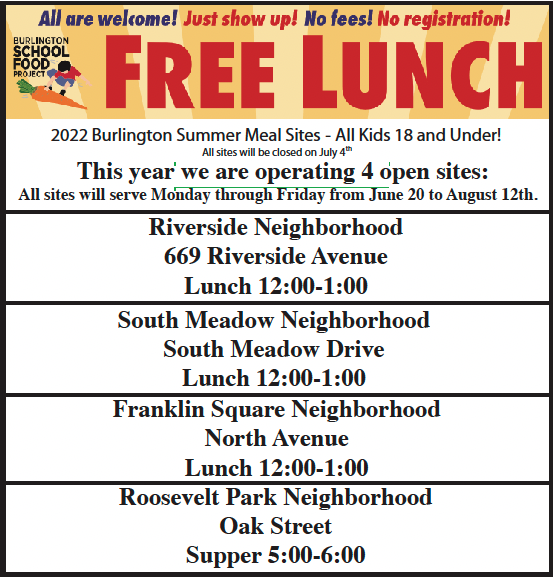 2022 Summer Meal Locations (Excluding Monday, July 4)
June 20 – August 12, Monday through Friday
Franklin Square Apartments
1554 North Ave., Burlington
Lunch: 12:00 – 1:00, M-F
Afternoon Snack
Riverside Apartments
669 Riverside Ave.
Lunch: 12:00-1:00, M-F
Roosevelt Park
57 Oak Street
Supper: 5:00-6:00, M-F
South Meadow
1 Raymond Place
Lunch: 12:00-1:00, M-F
Menu items are subject to change without notice. We offer a variety of choices every day. Vegetarian/Vegan options available upon request. For more information, please call (802) 864-8415 or email us at schoolfood@bsdvt.org
THIS INSTITUTION IS AN EQUAL OPPORTUNITY PROVIDER
Follow us on Instagram