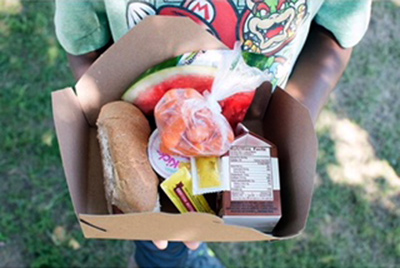 The nutritional needs of our students don't stop when school does. We believe in helping students enjoy summer with fresh, local foods.
The Burlington School Food Project offers free summer meals for all kids and teens. No application or registration is needed! Just drop by during the meal times listed below.
For more information about summer meals, please contact us at (802) 864-8416.
Outside the Burlington School District?
To find out about summer meals sites near you anywhere in Vermont, call 2-1-1 or text FOOD to 877-877.
2020 Summer Meal Locations
June 22 – August 14
---
Andy A-Dog Williams Skate Park
1 Lake Street, Burlington
Lunch: Monday -– Friday,  11:00am–1:00pm
Riverside, Franklin Square, & South Meadow Apartments
Lunch: Monday -– Friday,  11:00am–1:00pm
Dinner Snack at Franklin Square: 5:00pm–6:00pm
Roosevelt Park
57 Oak Street, Burlington
Dinner: Monday -– Friday,  5:00pm–6:00pm
August 10 – September 2
---
North Avenue Alliance Church
901 North Street, Burlington
Breakfast and/or Lunch: Monday -– Friday,  9:00am–10:00am
Sustainability Academy
123 North Street, Burlington
Breakfast and/or Lunch: Monday -– Friday,  10:30am–11:30am
August 17 – September 2
---
Riverside, Franklin Square, & South Meadow Apartments
Lunch: Monday -– Friday,  11:30am–12:30pm